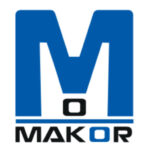 Used and second-hand industrial presses
At Makorpress we offer you used and second-hand industrial presses at the best price and with the best guarantee.
We work with new and second-hand European machinery that we restore and modernize
to be reused with the maximum guarantees.
And how do we manage to offer you the best used and second-hand presses ?
Thanks to retrofitting
What is retrofitting?
Retrofitting is a general term that can be applied to any physical structure or object, such as buildings, bridges, mobile phones, elevators, photocopiers, and in our case, industrial machines. In short, it means a new technology or added functions in the machine.
The retrofit of machines or industrial production systems involves the replacement of existing parts or adding new ones to improve the characteristics of the machine, such as efficiency, the safety of the same or workers.
When we talk about machinery, these activities are mainly carried out for:
Improve the safety of all plant employees.

Improve the quality of life of machine operators.

Detect defects in real time during operation.

Optimize the speed and quality of production.

Computerize the system to ensure proper data collection, analysis, and reporting.

Automate processes to improve the quality of the finished product.

Reduce labor, maintenance and spare parts costs.
With retrofitting it is possible to adapt this machinery to the new regulations in force, providing them with a new amortization period and without the need to assume the cost of acquiring new equipment..
Our retrofit method for used and second-hand hydraulic presses
We describe step by step our retrofitting process
PRESS SELECTION
We search and select the best used presses among our European partners
TEAM AUDIT
We go to the place to check the condition of the machine
TRANSFER TO OUR FACILITIES
We disassemble the equipment to move it, piece by piece, to our facilities
COMPONENT UPGRADE
We perform a complete cleanup and review the status of each component to update it, if necessary.
ADVICE AND CUSTOMIZATION OF EQUIPMENT
We carry out the set-up of the machine according to your needs and we adapt it to your requirements, both technical and aesthetic.
TRANSFER TO YOUR FACILITIES
Our service moves the equipment to the place where its use is necessary, it is our turnkey service
ASSEMBLY AND START-UP
Once located in your facilities, we proceed to its assembly and review for its correct operation.
ADVICE AND AFTER-SALES SERVICE
Once in operation, we offer an advisory service to get the most out of it
ASk us
Why opt for retrofitting in an industrial dam?
A press is a machine that can be used for many years, but as it ages many problems can arise and can be easily fixed by modifying or replacing certain parts.
On the other hand, it is also possible that a manufacturing plant decides to modernize the machine to achieve higher performance by adding new applications or improving safety.
In short, this technique is great for those who have high quality machines that are outdated or outdated and need minor modifications.
What changes can be made in a press?
Some of the changes that can be made to an industrial press are:
When the structure of the machine allows it, add a hydraulic system to the press that does not have this system to avoid overloads..
Install electronic force control system.
When you have enough space modify the press runs.
Changes in the stroke count.
and other custom enhancements for each client.
AUTOMATIONS FOR PRESSES
The automation process involves, in addition to the mechanical press itself, other electronic and mechanical components and accessories.
The optimized design of all these elements guarantees a perfectly synchronized process that improves the productivity of the system and the efficiency of the entire installation.
ask us
Used and second-hand industrial presses